Venetian Expo Center, Las Vegas - Level 1, Marco Polo Room 802 on Thursday 30th March
If you think you know 360-degree fisheye cameras…think again!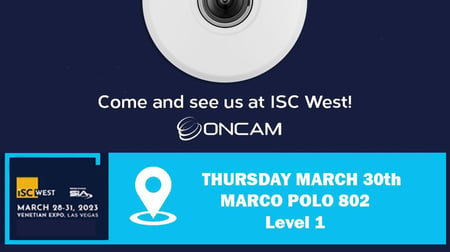 That is the message we are taking to ISC West as we demonstrate the many advantages offered by Oncam's C-Series range.
ISC West, also known as the International Security Conference & Exposition is the leading comprehensive and converged security trade event in the United States, and we are inviting you to join us!
Why visit us?
360-degree and 180-degree fisheye surveillance technology is the foundation of any video security solution where the user needs total situational awareness.
However, not all fisheye cameras are the same as we will prove to all those that meet with us at ISC West. We will provide you with practical demonstrations of Oncam C-Series cameras in action and discuss how this innovative camera range can be used to solve your everyday security challenges.
We will be demonstrating how Oncam's C-series cameras:
Utilize a unique blend of

technology

to deliver unrivaled image quality and dewarping experience with no stitching or blind spots.

Innovative, modular design along with clever innovations employed during set-up simplifies, accelerates, and reduces your cost of installation too.

Benefit from the highest IP and IK ratings of any camera of its kind, enabling you to meet video surveillance needs in the most demanding environments.
Our experts will also be on-hand to discuss your specific security challenges and show you how introducing Oncam may offer better, more cost-effective approaches when spec'ing out your future projects.
How to experience Oncam at ICS West?
Meet us in the Oncam Showroom on Level 1, Marco Polo Room 802 on Thursday March 30

th

.

If you cannot make Thursday, March Networks (booth #26041) will be demoing our technology as part of their Video Management Solution. The

manufacturer reps' teams of

Badger Reps

and

1 Volt Associates

will also be available to answer questions about Oncam.
Get registered!
If you've not already registered: Register for ICS West
Schedule a meeting
Would you like a 1-to-1? Book a meeting with the Oncam team.
We welcome the opportunity to discuss your security needs and how Oncam can support you through its reseller and distribution partners.
Please contact us to find out more.
Receive Oncam updates and news directly in your inbox