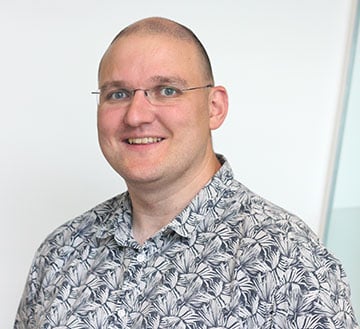 Getting to Know: Oncam's Design Manager, Mike Parsons
They say you only have one chance to make a great first impression. While we tend to think this statement refers to people, this statement also extends to the things we use every day, from food to technology.
It also applies to digital experiences. The way products look affect how users experience them. Visual design and usability play a key role in creating products that enhance the user experience.
Mike Parsons knows this fact first-hand. At Oncam, he is charged with developing design-forward products and systems with cutting-edge technologies while maintaining a practical approach to achieve suburb outcomes. Here, we chat with Mike about the importance of visual design, how it relates to usability, and how he strives to create better user experiences.
What is the role of visual design in the user experience?
Visual design is about implementing functionality in a way that enhances a design or interaction. The goal is to increase customer engagement with the product, and due to that, we must combine interface (UI) design and graphic design.
The first goal of product design in video surveillance is to make it usable — we want to ensure users can quickly get to the correct information and efficiently move through the steps of identifying what is most important to them quickly and efficiently. The ability to easily navigate through this process is critically important in the world of security, where every minute counts when responding to an incident or business problem.
Good visual design can improve the overall user experience of a product, but it must be usable. A complex user experience can make the most beautiful design unusable. That's why design is so important; it's not just about making the UI look good. It's about creating a consistent, aesthetically pleasing, and simplified experience.
What role does design play in hardware development in the video surveillance industry?
It is a critical component, especially in markets like retail, hospitality, and gaming where aesthetics are critical. Security cameras used to be bulky, intrusive devices but now come in smaller sizes and are designed with a greater focus on the overall aesthetic impact. And even though the camera body size may be small, the cameras still deliver high-resolution video and intelligent features. Take the Oncam C-Series, for example. It is designed to be small and compact yet still provide powerful 360-degree fisheye camera capabilities with 12MP and market-leading 55 fps. It also incorporates cutting-edge algorithms and technology such as StreamLite Compression, TrueDetail HDR, and Advanced Light Management technology — all designed to ensure our customers always have reliable, secure, and clear video.
These kinds of cameras are ideal for businesses that have invested in modern, minimalistic designs. Contemporary, compact camera design blends in with a business' specific aesthetic. And there can be security advantages, too. While obvious security cameras can be a deterrent, discreet cameras can capture activity that might otherwise not have taken place.
What's the most rewarding part of your work at Oncam?
I love to hear specific feedback about how easy a camera is to install or how simple the interface is to use. One day I was picking up some chips at a store, and there were some security installers on-site that I started talking with, and they said, Oncam cameras are brilliant products that are very easy to configure. That kind of feedback is gold to me because it's a direct comment from people who use it. For me, that is incredibly rewarding.
Receive Oncam updates and news directly in your inbox