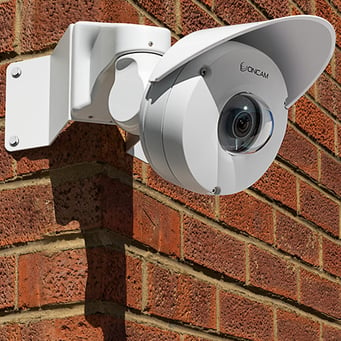 Video surveillance technology has the power to help you gain better situational awareness no matter what industry you operate in. A video surveillance system with 360-degree cameras will offer comprehensive views without blind spots. 
 Using 360-degree cameras allows you to reduce the number of cameras, resulting in a lower initial hardware investment and easy installation and maintenance.
High resolution 360-Degree video means more detailed pictures, but it is important to consider bandwidth when streaming video. Video consumes a lot of bandwidth (Bandwidth refers to the amount of data a network can handle in bits per second.), and high-resolution 360-degree cameras can consume a lot of bandwidth and storage.
To share video from one point to another, such as from a camera to a video management platform, modern video surveillance systems transmit data over IP networks. Even though IP networks are an attractive way to transport video, they are also reaching their limits. Often, the same network that transmits video also supports two-way audio, alarms, access control data, and cloud services. 
Don't worry, though, with Oncam's C-Series there are no roadblocks on the way to high-quality, 360-degree video. Using the latest real-time adaptive video encoder technology, Oncam offers enhancements on advanced compression technology, for both H.264 and H.265, to further reduce bandwidth and storage by an average of 50% or more. In scenes with low motion, reductions of over 90% can be achieved with minimal impact on the final image quality, but most of all, without compromising on the details that matter.
Oncam's advanced compression technology strikes a balance between image quality, storage, and bandwidth. We call this StreamLite Technology. Utilizing smart dynamic object and motion-based algorithms, StreamLite compression technology analyzes the video stream in real-time to identify the most critical parts of the recording and compresses the less critical parts of the recording. Additionally, we added dynamic FPS, which further reduces data rate by reducing frame rate when there is no motion.
Our Integrated VMS / NVR partners have access to StreamLite+, enabling them to achieve an additional 20% compression thanks to the advanced capabilities of Oncam's ColorMap Compression.  By using ColorMap compression technology, colors from a scene that are not prioritized to the human eye are reduced. The reduced color data is then compressed for efficient encoding, resulting in less data being transmitted and stored, which is then uncompressed for viewing. All Oncam C-Series cameras offer StreamLite and StreamLite+.
 With our focus on compression solutions purpose-built for video surveillance environments, our C-Series suite ensures your images remain sharp and more detailed than other 360-degree camera technology while reducing the bandwidth demand on your network. Go ahead, check it out.
Receive Oncam updates and news directly in your inbox