The Oncam team is exceptionally pleased to say that the first half of 2019 has been a very busy yet successful time for the Evolution ExD Explosive Environment camera range. The rugged 360-degree device, available with either a 5MP or 12MP sensor, has been honored with numerous industry awards within the last six months, demonstrating its innovation, unique design elements and significant value to the market.
In early March, the ExD camera was chosen as a winner at the Hazardex 2019 Awards in the Personnel Protection Technologies (PPTex) Innovation category during the Hazardex 2019 Conference and Exhibition in the U.K.
The award highlights the best innovation in PPT equipment to improve safety within the process and high hazard industries, and the ExD camera's recognition demonstrates its ability to provide comprehensive situational awareness to these environments.
Later in March, BUILDINGS Magazine selected the ExD camera as a 2019 Money-Saving Product in the Life Safety and Security category. The products that received this award help provide life-saving solutions for people and property in a cost-effective manner. Oncam's ExD camera's 360-degree technology enables facility managers to obtain a complete view of a scene, therefore enhancing safety while reducing costs by eliminating the need for multiple traditional field-of-view cameras.
Most recently, at ISC West 2019 in April, Security Today announced that the ExD camera won a gold-level 2019 Government Security Award in the IP Video Surveillance Cameras category. The Govies recognize outstanding government security products, and the ExD camera was chosen for its value in protecting municipal and Safe City environments through its reliable and weather-resistant housing.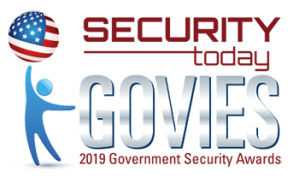 These awards showcase the careful design and consideration that went into creating this specialized device that truly addresses the need for organizations to safeguard critical assets in demanding markets. The ExD camera can withstand the harshest of conditions due to its Stainless Steel 316L housing; IP66, IP67 and IP68 ratings; ATEX approval for gas and dust resistance; and IEC and IECEx certifications.
The ExD camera is ideal for industries where the environment may be hazardous, such as oil and gas production and refineries, power and utilities, wastewater treatment, and grain handling and storage. In the oil and gas sector, for example, wide-angle and 360-degree video surveillance is critical to comply to the industry's stringent regulations for the safety of workers and assets, but dangerous situations may be unavoidable at times. The ExD camera provides an unobstructed view of operations while ensuring that the device will not be affected by external damage.
Oncam would like to sincerely thank Hazardex, BUILDINGS Magazine and Security Today for these coveted honors and we look forward to continuing to allow hazardous environments to achieve their safety and security goals in a safe and reliable manner.
Learn more about how the ExD Explosive Environment camera range can help your organization today.
Receive Oncam updates and news directly in your inbox