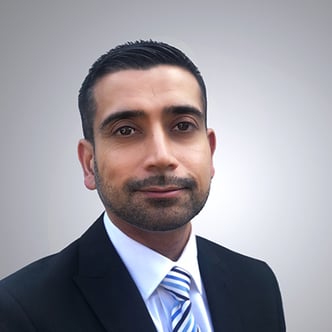 By Dilen Thakrar, Product Manager, Oncam
The C-Series is positioning 360-degree cameras as the cornerstone of today's video surveillance solutions. Our latest compact camera line, launched with the C-12 Indoor and C-12 Outdoor Plus, incorporates latest design features, functionalities and image processing technologies to deliver a powerful, market-leading device that offers tangible benefits to end users and their security operations.
In our previous blog, we introduced the C-12's 12MP high speed sensor, industry-leading frame rates of 55fps at full resolution, maintainable frame rate of 30 fps while multi-streaming and StreamLite smart compression technology that lowers video bandwidth and network storage needs. Now, we're excited to introduce two image processing technologies that focus on providing superior image quality with clear, sharp details even in challenging light conditions..
TrueDetail HDR
Photographers know that bright and dark areas are difficult to capture in a single shot. In essence, darker areas need a longer exposure, otherwise details can be lost and portions of the image will inevitably come out unclear. TrueDetail HDR uses high dynamic range (HDR) technology that enables the C-12 camera to concurrently capture both long and short exposures and fuse them into a single image to reveal the details in both dark and bright areas of the same scene.
By minimizing the time lag between short and long exposures, this technology delivers clear images with minimal motion blur. What's the differential? Standard HDR technologies capture alternating exposures sequentially, which has the potential to result in distortion or blurry images when there is motion in the scene. What makes TrueDetail innovative and powerful is its precise light calculations. It enables the C-12 to carefully select the most fitting exposure for each area of the image, with the smallest gap, generating a video feed that's as realistic and detailed as possible.
Advanced Light Management
The key word here? Adaptive. Responding to feedback from our customers and building off of our collective expertise, our team has developed Advanced Light Management technology for the C-Series. It dynamically manages the available light to achieve the best results in every corner of every 360-degree scene. Several adaptive low light enhancements are applied throughout the image process, starting at the lens and all the way through to the final images streamed. These combine with the dynamic scene identification and exposure control to produce clearer, brighter video in challenging and low-light conditions.
Throughout product conception, design and development, we have carefully made specific hardware and firmware choices employed on the powerful multi-core CPU that manages and processes these advanced imaging algorithms. Components such as a large, high-quality aperture fisheye lens, cutting-edge high sensitivity image sensor and state-of-the-art image signal processor are the main hardware drivers behind the C-12's intelligent and adaptive exposure management system. Fully automated, this technology dynamically makes adjustments based on the lighting conditions. Users are offered simple choices for their imaging preference, whether that be to achieve the sharpest motion or the most exposed low-light detail. The final images streamed from the 360-degree camera are perfectly tuned, produced by taking advantage of all available light to optimize image quality and produce sharper, fuller-color and noise-reduced videos.
Delivering the Best Quality
By taking control of exposure and expanding the scope of usable light, we're confident that the C-12 will give you the best possible clarity. Providing consistent, reliable video in all light conditions is a challenge that we're constantly focusing our efforts on providing solutions for; TrueDetail HDR and Advanced Light Management are two crucial pieces of that puzzle. Learn more about all of the features and onboard technologies that the C-12 cameras and the C-Series has to offer.
Receive Oncam updates and news directly in your inbox