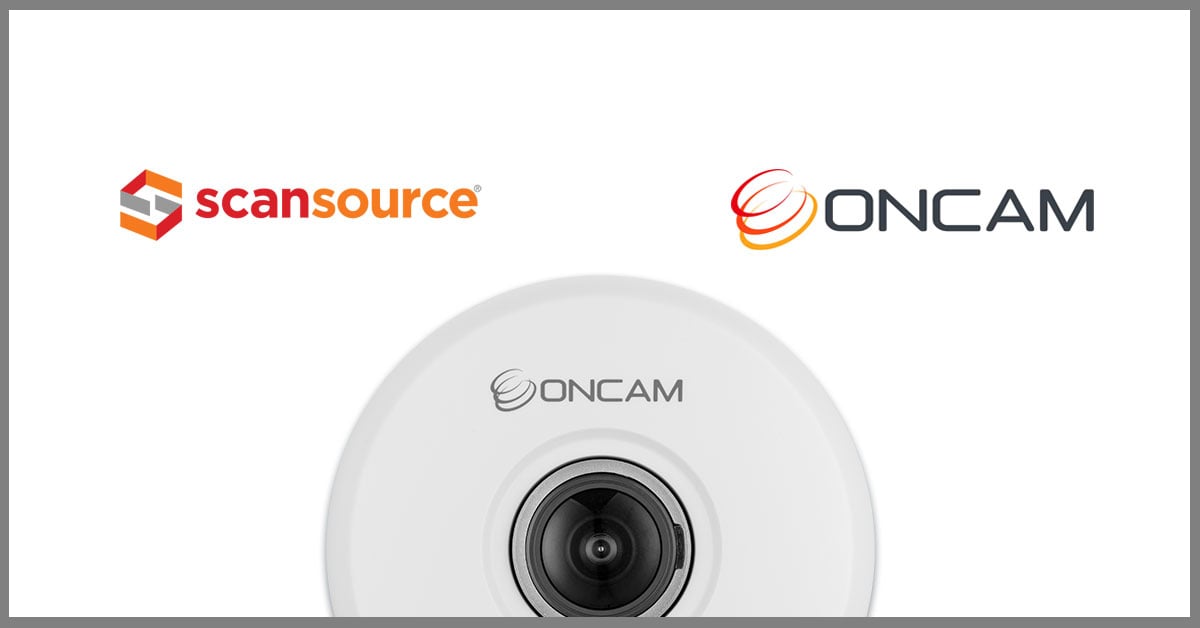 PRESS RELEASE
Oncam Signs Strategic Agreement with ScanSource to expand reach of 360-video solutions
LONDON, April 14, 2022 – Oncam, a global independent manufacturer of single-sensor fisheye 360-degree cameras and video surveillance technology, today announced a strategic distribution agreement with ScanSource, a leading hybrid distributor connecting devices to the cloud. 
As part of the partnership, ScanSource will distribute Oncam's leading suite of 360-degree video surveillance solutions, effectively extending the reach of Oncam's technologies within the security market. 
"We're excited to add Oncam's portfolio of 360-degree video cameras to our current line card of services and solutions," said Tony Sorrentino, President, ScanSource. "The addition of Oncam's product offerings will enable ScanSource to provide a wider breadth of complete solutions to our partners."
Oncam's C-Series cameras are the most advanced and flexible cameras of their kind on the market. Powered by the Qualcomm® Vision Intelligence Platform, which spans a full range of system-on-chips (SoCs) designed for running compute-intensive workloads at the edge of the network, the C-Series delivers the features and technology necessary for the next generation of fisheye cameras. 
The flexibility delivered by the C-Series is unmatched. Multi-Mode functionality empowers users to choose from five different views and stream up to four of them simultaneously. Whether an operator requires a 360-degree camera, a panoramic camera, or dewarped views, the C-Series exceeds the expectations of today's most advanced security requirements. Being able to offer this level of versatility from the same camera ensures users can support various cases whilst partners gain access to simpler configuration, ordering, and stocking processes.
"By offering Oncam video innovations, ScanSource partners have access to solutions with features, flexibility, and reliability essential to mission-critical video applications," said Scott Brothers, COO, Oncam. "We're pleased to gain the opportunity to work with ScanSource to address these key customer requirements and look forward to working closely with them to deliver the benefits of 360-video to a greater audience."
About Oncam  
Oncam is a global independent manufacturer specialized in single-sensor 360-degree fisheye cameras and video surveillance technology. The company creates and deploys an open platform with specialized IP video and dewarping technology to create award-winning video-led solutions for stakeholders from C-suite to the security officer in multiple customer sectors. Oncam allows better decisions to be made based on real-world and digital data.  
Oncam, founded in 2007, is part of ONVU Technologies Group and is a leading innovator in 360-degree and panoramic IP video technologies globally. Oncam is headquartered in Switzerland and operates from regional hubs in the UK and United States. Visit oncamgrandeye.com for further information.  
Receive Oncam updates and news directly in your inbox