The C-Series – As adaptable as you are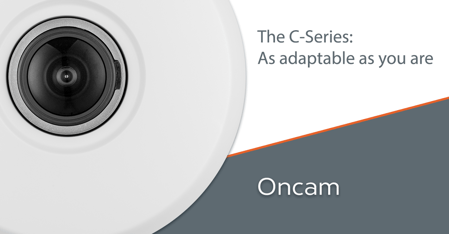 Oncam
We can't predict the future but we can predict that business needs will always change. In today's fast paced world stakeholders place high expectations on organizations and in order to keep up with consumer demands, businesses need to adapt as their industries evolve.
Technology is also evolving at a rapid rate so when investing in surveillance technology for your business you want to be sure the money you spend is going to be worthwhile and the benefits long lasting. At Oncam we understand the pressures of an ever changing business landscape and have designed our new C-Series range of cameras to be as scalable and adaptable as you are.
Investing in security is something every business considers and buying a security camera for a specific need is great, but what if that need changes? Do you then go out and buy another camera? The C-Series' innovative design and technology means that our customers don't need to worry about their needs changing. Our security solution is not only ready to meet the security demands of your business today, it's already prepared for what might come tomorrow.
So, what can the C-Series offer?
The powerful fish-eye lens provides 360-degree views of your area of interest, why use multiple standard cameras when one camera can provide maximum situational awareness? The C-Series' compact design allows them to be placed into the smallest of areas. Think of small offices or waiting rooms where people may feel uncomfortable knowing a camera is watching them, the C-Series helps to alleviate this by being discreet and unimposing in the room. But don't think these compact cameras can't deliver on larger areas too, they're powerful enough to cover larger areas with ease and they're tough. Whether the area is large or small, indoors or outdoors the C-Series can provide you with the views you need all from one camera.
Moving is also not a problem, the C-Series cameras are quick and easy to install meaning that should you need to move a camera to another area, another room, or even another address the C-Series can be moved with ease and minimal disruption.
Our camera may be discreet but our technology certainly isn't! This compact camera packs a real punch when it comes to its capabilities. The technology of the C-Series is as versatile as the camera. No longer need a 360-degree camera in that waiting room but now need a 180-parnomaic for the corridor? You don't need to go out and buy another camera the C-Series has it covered. With Oncam's cutting edge Panoramic Plus technology and an accessory change, your C-Series camera becomes a powerful 180-degree camera. Any angle you need, the Panoramic Plus technology provides you with a clear dewarped undistorted image with no stitching, misalignment, light balance issues or blind spots. From 360-degree to 180-degree in no time!
The technology versatility doesn't end there, with Multi-Mode the C-Series can be tailored to your needs based on your particular use case. Multi-Mode enables you to record everything that happens within a scene thanks to the 360-degree coverage from the fisheye stream, but at the same time, it makes it possible to conveniently set up other specific views for ease of use. For example, the 360-degree view can be used for retrospective investigation, while the different dewarped views can be displayed on the screen of a control room for more natural live viewing. The flexibility doesn't end there: you can run streams at different frame rates, deciding which streams to watch or record at which frame rate.
Thinking of moving your camera from a light to a dark area? Then the C-Series has you covered. Oncam's Advanced Light Management Technology dynamically manages the available light to achieve the best results in every corner of every 360-degree scene. Whether it be extreme low light or a complex mixed lighting environment, the camera automatically optimizes image quality whatever light available to produce clearer, while maintaining the sharpness of static or moving objects even in very low light conditions.
The C-Series is compact, capable, clever and powerful. It has the ability to adapt as you adapt and provide you with the very best security solution to allow you to focus on what matters the most – the success of your business.
Receive Oncam updates and news directly in your inbox