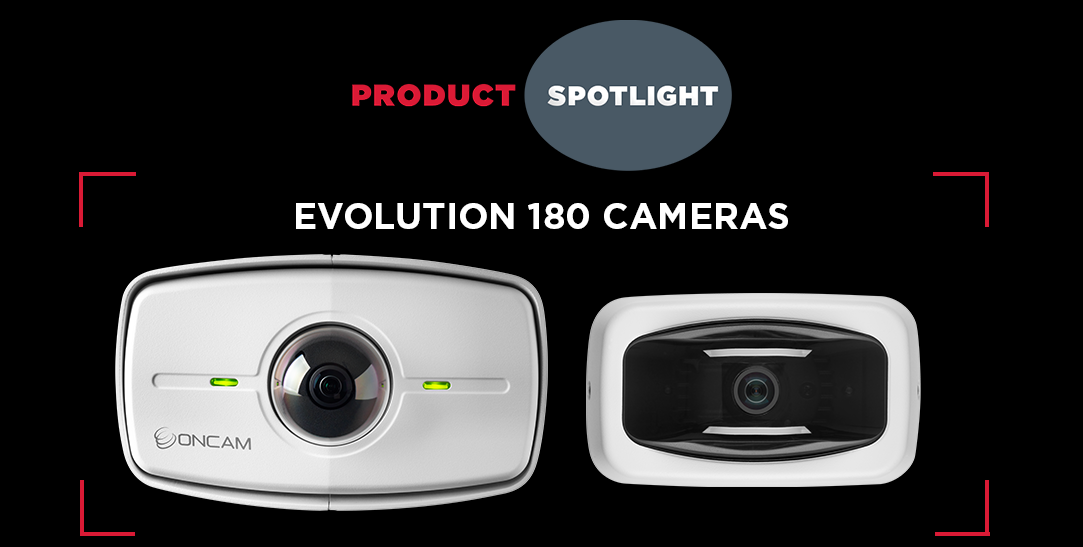 As the first edition in our new "Product Spotlight" blog series, there may be no better candidate to feature than Oncam's Evolution 180 camera range. Since the moment we added the product line to our portfolio last year, you've likely heard us talk about the importance of this technology and the value it brings to users in a variety of markets — and it's time to revisit why that is.
Built upon Oncam's expertise and heritage of its 360-degree technology, the 180-degree camera line includes the features that Oncam customers have come to know and appreciate. But the 180-degree technology reaches a specific niche, as the cameras are optimized for wall-mount applications and those that require a dewarped panoramic view of a scene from a single-sensor camera.
The Evolution 180 cameras leverage Panoramic+ views to replace several narrow field cameras without incurring any stitching issues. Scene offset allows for the image to be electronically adjusted to tilt the panorama and focus on what matters most. Additionally, multiple mounting angle options allow different and innovative panoramic views, and thanks to Oncam's Angle Compensation Technology (ACT), vertical lines in the scene are straightened when tilting the image.
This is exactly why Oncam's 180-degree cameras are critical for achieving increased situational awareness and a wide, complete picture. In markets such as casinos, hospitality, retail, transportation and banking, users demand the best possible imagery of only the necessary areas, which might be a long hallway or corridor. With 180-degree technology, security personnel can proactively identify risks and vulnerabilities, ensuring the safety of people and property.
For example, the city of Samastipur in Bihar, India, struggled to comprehensively monitor traffic flow at busy roadways and thoroughfares. By installing four Oncam 180-degree cameras as part of a wider system, the city was able to see more of the scene than with its previous narrow FOV cameras. Samastipur now benefits from reliable video data for investigations, better resolution quality and improved operational efficiencies, ultimately creating greater protection for its residents and visitors.
Oncam's Evolution 180 cameras are available in both indoor and outdoor models, providing flexibility and reliability in various environments. Both versions include several key technology features, such as a 12MP sensor, a 6MP dewarped panorama and true day/night capabilities. The Evolution 180 Outdoor camera is IP66, IP67, IP68, IP69K and IK10+ rated, making it ideal for extreme environments. The cameras are also ONVIF Profile S compatible, enhancing their ability to integrate with various video management systems and further strengthening Oncam's dedication to interoperability.
Just a few years ago, panoramic and fisheye cameras were a novelty. But today, this technology has taken the leap into the mainstream, forming an integral part of a surveillance solution that provides total situational awareness and retrospective investigation capabilities, which was not previously possible with traditional cameras. Oncam's Evolution 180 camera range delivers panorama perfection for the markets that need it most.
Receive Oncam updates and news directly in your inbox