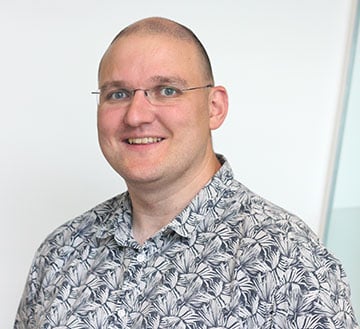 By Mike Parsons, Design Manager
The technology world is collaborative in form and structure. Engineering marvels are created each day, driven by a desire to make the world a better, safer, and more efficient place. Every innovation begins as an idea, but to transform it from a single thought into a sustainable and viable solution, you must consider the value that design can add to the overall concept. Only then can a sustainable solution be nurtured.
In the video surveillance market, design is no longer seen as a "nice to have" function within the R&D process, and it is no longer considered an afterthought. As a result, the days of solving a business problem through a technology-only lens will not support the overall goal: delivering a technology that will help solve modern security and business challenges.
Design is an integral part of the creation of new video technologies, and with good reason. Security and IT leaders increasingly interact with more designs and intuitive technologies in their daily lives than ever before. Therefore, usability and interactivity are a lot more critical in determining the success of a product and the overall end-user experience. The all-encompassing nature of technology has also rendered the user experience and user interface design more critical than ever before. Today's technology must be far more elegant than what it used to be, and sound design is where it starts.
The Importance of Design
As we developed our new Multi-Mode firmware, which allows us to deliver a single 360-degree camera for a wide range of use cases and environments, we knew the design would be a critical part of our development process. With the addition of Multi-Mode, users can choose from five different views and stream up to four of them simultaneously. Multi-Mode adds the flexibility and versatility needed to expand the use cases possible with 360-video technology. With the updated C-Series, stakeholders can record everything that happens within a scene with 360-degree video coverage and, at the same time, easily configure alternate and more natural-looking views tailored to specific needs.
The enhancement to our C-Series camera line is part of our goal to bring the best 360-degree video solutions to our partners and customers. But we can't accomplish our goals without thinking about how the technology will work in the real world. Unfortunately, many new technologies can be complex to use, which can dissuade widespread adoption. So, we wanted to ensure that not only could we deliver a camera that provides the video image required for today's mission-critical use cases, but we needed to make it simple to install and use. And that is why design played a critical role in the development of the Multi-Mode firmware.
Converging Design and Technology
Oncam leads with design, and this process starts with our people. Our team spent a significant amount of time testing and working with the Multi-Mode UI to ensure it was easy to use and configure for any skill set. We got as many hands on it as possible to see what worked, what features would be most used, and how this affected the overall user experience. As a designer, I want to see how people interact with our ideas, and we make changes based on feedback, which was a critical part of making Multi-Mode what it is today.
It can be easy to sit in a room alone and imagine what a user might want out of our technologies as a designer. But this hurts the overall solution because it's a close-minded approach. It is much better to get as many opinions as possible. I see my role as a designer to filter the inputs and ideas and create outputs clearly and concisely that enhance the user experience. It is an influential role and process that we, as designers, are driving throughout the business.
Integration Experience
The end customer experience is only part of our focus. We also want to ensure deployment for integrators is streamlined as well. During our design process, I put myself in the integrator's shoes. First, I thought about what they are trying to accomplish with our camera and the key points they were looking to address for their customer. Next, I imagined the different deployment options. Are they standing on the ladder? Are they using a computer or using a mobile phone? How are they interacting with the product? These are all essential points to consider.
At Oncam, we have built a design-driven culture and a rigorous design-centric innovation process by fostering collaboration between technology and design teams. Implementing the best technology can be crucial to building an innovative and advanced solution, but what if users cannot use this incredible technology you've put in front of them? The same goes for the systems integrators and IT resellers deploying the camera.
Far too many innovation projects have suffered a premature end because they focused more on the technology and less on usability. There is a delicate balance between design and technology teams to build user-centric and technologically savvy applications. To reach this balance, you have to begin with design and weave design through product development.
At Oncam, we are laser-focused on making cameras as easy to deploy and manage as your mobile phone. It might sound simple, but it's the everyday simplicity that makes technology beautiful.
Receive Oncam updates and news directly in your inbox